Want to learn how to use solo ads for affiliate marketing?
You landed on the right page because in this guide you're going to learn everything that you need to know about how to use solo ads for affiliate marketing. So let's start with the very basics.
Basics
I know if you're reading this, you must be already familiar with the terms solo ad and affiliate marketing but just to make sure we are on the same page let's have a quick introduction to the two.
What are Solo Ads ?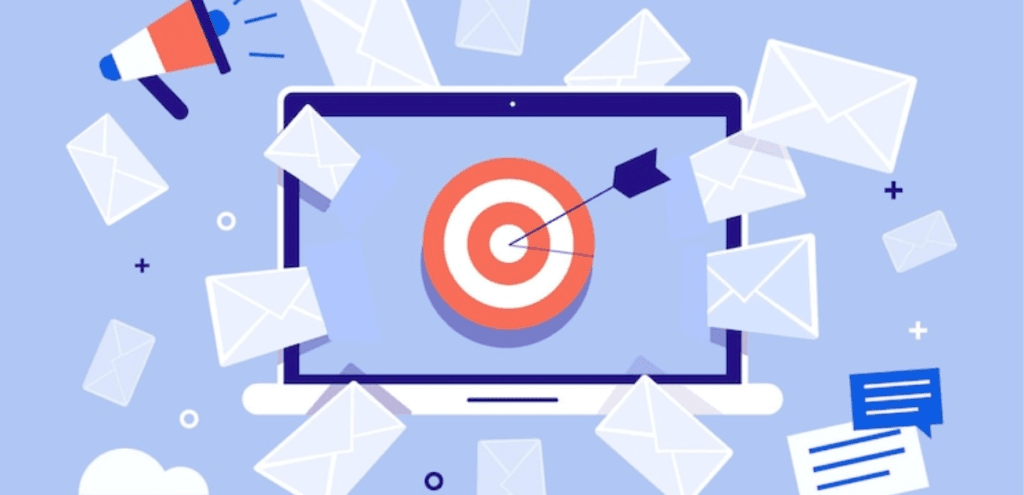 Solo ads are email based ads that are used to promote your product or services. A solo ad is basically a highly targeted email message that is sent out to the email list subscribers but here's the twist.
With solo ads you don't need to have an email list because you can send out your promotional emails to someone else's email list.
And how's that possible?
Let me explain it for those of us who are not familiar with solo ads.
When you use solo ads, you buy access to a solo ads seller's email list and they send your promotional emails to their list on your behalf and gets paid for every click you get on the link that drives the reader from the email to your sales page.
Who Is A Solo Ads Seller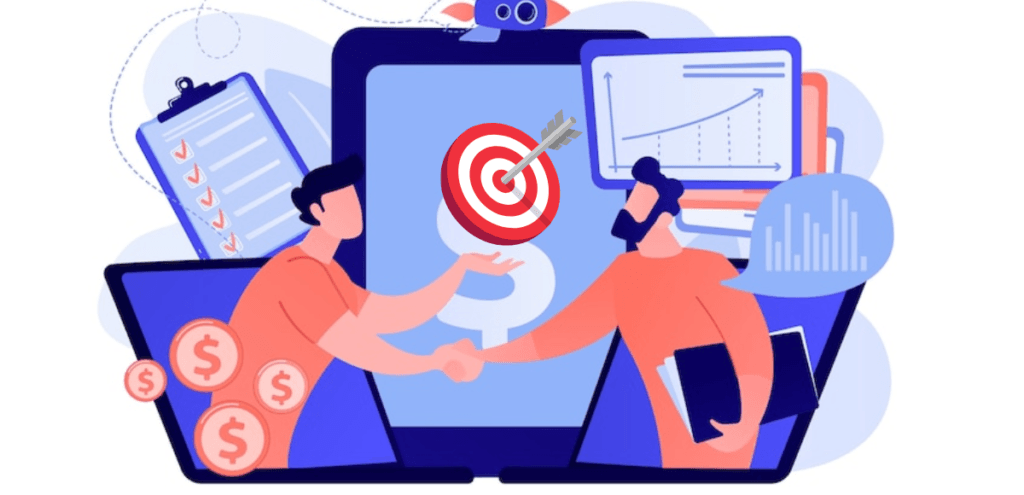 Okay so now the question arises, who is a solo ads seller?
I mean, you can't 'buy' anyone's email list just like that. Right?
In fact, it is an unlawful practice to buy or sell anyone's personal information like an email address.
So how are you supposed to work with someone who is selling their email list?
Well, calm down because in reality solo ads seller NEVER share or sell their subscriber's details. That said, solo ads are completely legal.
A solo ads seller is a person who earns their living by selling guaranteed web traffic for your website, sales page or affiliate page.
Solo ads vendors have a huge email list built in their respective niche and they know how to capitalize it. For example, if a solo ads seller has a list of 12,500 and he knows that he has a click-through-rate of 2% that means he can guarantee 250 clicks to you.
And if he sell these 250 clicks at $100 that means you will get $0.25 CPC (Cost-Per-Click) which is quite affordable if you compare it with other sources of traffic and solo ads are especially a great option when you you want instant traffic to your site or when you're doing affiliate marketing.
What is Affiliate Marketing?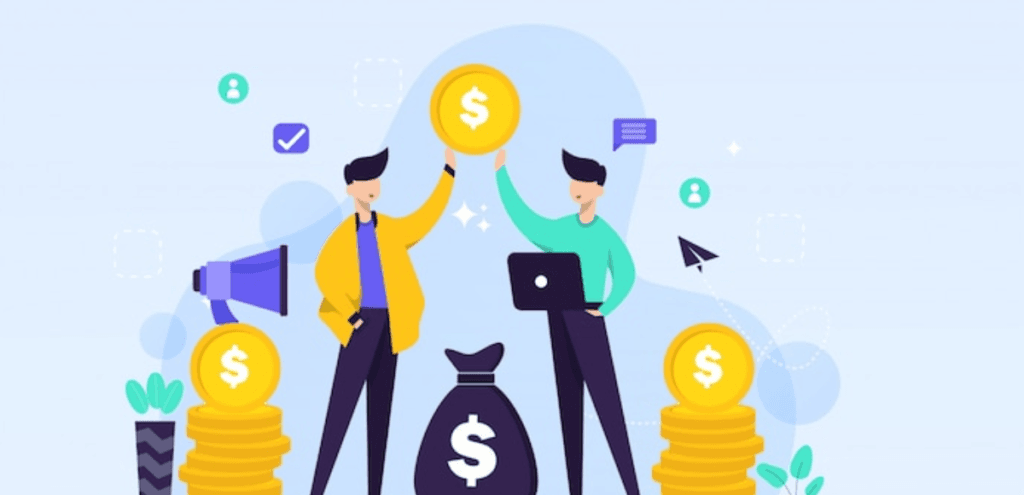 Affiliate marketing in simple words is a marketing model in which a brand partners with a third party and compensates them to promote their product or service.
And what does solo ads gotta do with affiliate marketing?
Well, solo ads are quite popular amongst affiliate marketers because it's a great way to promote affiliate offers. So if you do anything affiliate keep reading to know how to use solo ads for affiliate marketing.
Benefits of Solo Ads for Affiliate Marketing
There are many ways to do affiliate marketing like social media and email marketing. But if you want to do affiliate marketing via social media, you must have a huge fan base AKA followers.
And building a huge and responsive audience base takes a lot of time and effort and sometimes even money if you take the paid caompaign's route.
And if we compare the two marketing channels, email marketing has a way higher ROI than any social media platform. In fact, according to Hubspot, email marketing is one of the most effective marketing channels with an ROI of $42 for every dollar spent.
But hey, doesn't email marketing take time and effort to build an effective list?
Yes, of course it does!
But if you are an affiliate marketer you'll be needing an instant hit to your offer page, although building a list is a good practice for the long run but if you have just started affiliate marketing, you can't wait for months and years to build your list or social media audience. right?
And that's where Solo ads come in with the goodness of email marketing but without the hassle of list building
Here are some of the key benefits of using solo ads for affiliate marketing.
Solo ads are quite affordable as compared to any other paid promotion. You can buy a click for as low as a few cents. While on the other hand, you have to bid for clicks in the case of popular channels like Google Ads. Plus many channels of promotion don't even allow affiliate marketing.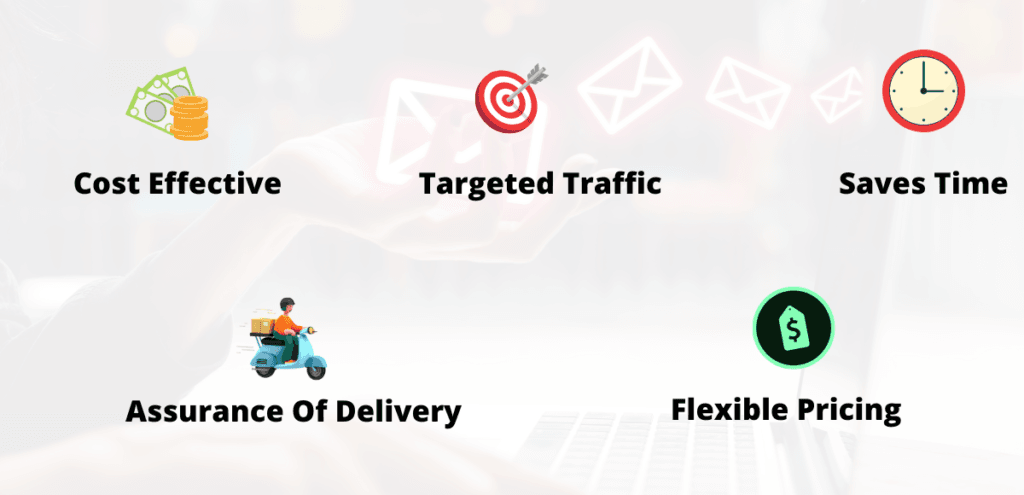 • Cost Effective
Solo ads are quite affordable as compared to any other paid promotion. You can buy a click for as low as a few cents. While on the other hand, you have to bid for clicks in the case of popular channels like Google Ads. Plus many channels of promotion don't even allow affiliate marketing.
• Targeted Traffic
With solo ads you get your affiliate link delivered right in the inbox of people who are looking for the same kind of product that you are promoting and have a pre-built mindset to opt for your offer.
• Save Time
Solo ads allow you to send promotional emails to your solo ads vendor's list and an efficient solo ads seller can deliver all your clicks that you order within a month. That means you don't have to wait to build an entire email list.
• Assurance of Delivery
Unlike any other form of paid traffic with solo ads you can buy a fixed number of clicks and you get a guarantee by your solo ads provider that you will get exactly what you ask for.
Some solo ads vendors are so good at their job and customer service that they don't not just deliver the ordered clicks but they over deliver as a gesture of gratitude or gift.
• Flexible Pricing
When you buy solo ads, you can have flexible pricing choices. You can choose the pricing whether fixed or based upon the performance. In the fixed pricing, you need to pay a set rate for sending the mails. In a performance-based one, you need to pay on total varieties like pay per open, pay per click or pay per sale.
Ways to Use Solo Ads for Affiliate Marketing
There are two main ways to use solo ads for affiliate marketing.
Sending traffic directly to the affiliate offer
Sending traffic to affiliate offers after converting visitors into leads
Sending traffic directly to affiliate offers
You might probably have seen this tactic many times if you subscribed to several solo ad sellers' lists.
Pros of Sending traffic directly
Find out the sale funnel's conversion rate immediately
A/B test funnels
Test different solo ad vendors to see their traffic conversion rate to your offer combination
Cons of Sending traffic directly
You are not building an email list
Sending traffic to lead capture page and then affiliate offer
Smart marketers use this method. Here are why: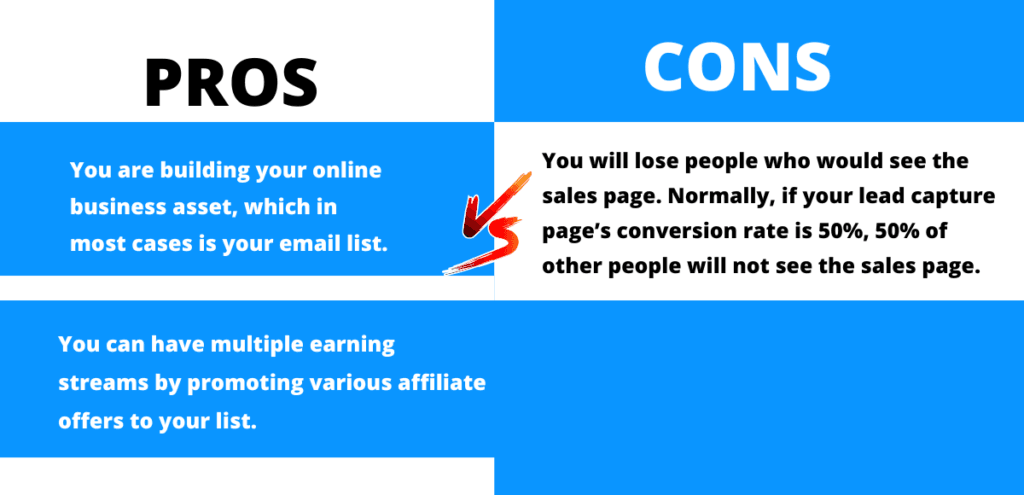 Pros
You are building your online business asset, which in most cases is your email list.
You can have multiple earning streams by promoting various affiliate offers to your list.
Tracking overall ROI across solo ad campaigns after the completion of the email autoresponder sequence becomes possible.
Cons
You will lose people who would see the sales page. Normally, if your lead capture page's conversion rate is 50%, 50% of other people will not see the sales page.
How to use solo ads for affiliate marketing
A good solo ads affiliate marketing strategy involves these components.
Lead magnet
A good squeeze page
A good affiliate offer
A reliable tracking system
Lead Magnet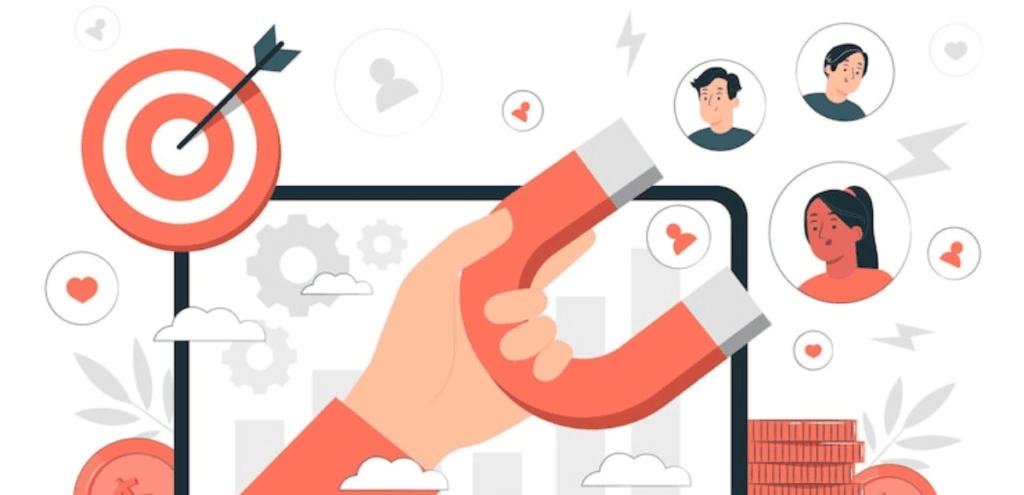 The lead magnet is an offer you exchange for the visitor's email address. It has two purposes.
Increasing email subscribers – If you offer highly valuable assets for free, more people will enter their email addresses.
Qualifying leads – Another very important aspect of a lead magnet is qualifying subscribers.
For instance, if your lead magnet is about super easy make money online (MMO) gig ideas, the subscribers are interested in MMO niche as a whole. You can utilize that in your email marketing campaigns to pitch more MMO affiliate offers and private label products, or even share tutorials on How to make money online to build trust. Just like I do on my Instagram, YouTube and other channels.
Squeeze page
The squeeze page is also known as the lead capture page. Its sole purpose is to maximize email capturing in any way possible. It does not have to be pretty or long. You are good to go if it converts better than other squeeze pages.
A Squeeze page has:
Headline – That sells your pitch (in our case, the lead magnet)
Offer selling points – It can come in bullet points, sub-headlines, descriptions, or even as the background image.
Opt-in form – The place where people can enter their contact details
Call to action button
All visitors from solo advertising campaigns will visit your squeeze page. Then they will enter their email address. After successfully signing up to your list, they will be redirected to the affiliate offer.
Sounds awesome, right?
Affiliate Offer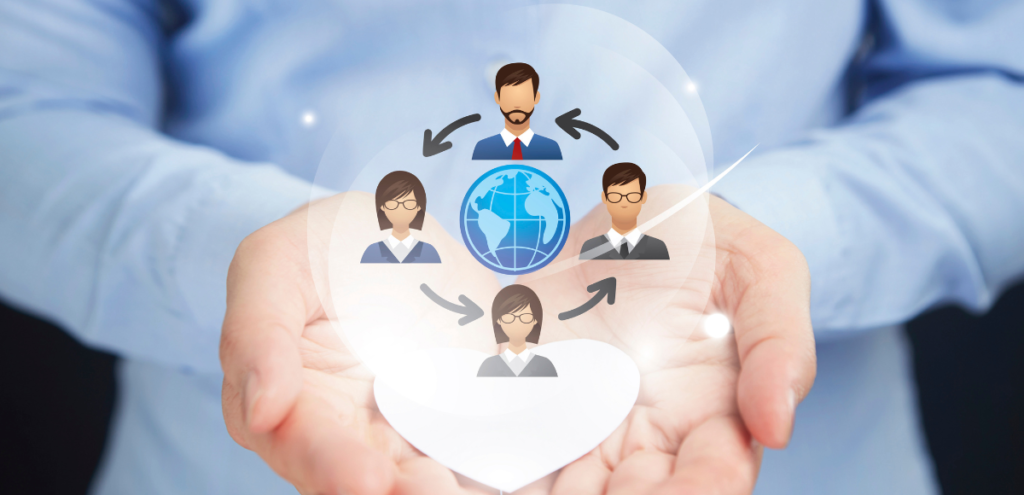 Here is the step you were waiting for in this guide on solo ads for affiliate marketing!
You should be careful when selecting an affiliate offer. Here are some tips to consider:
Select a higher converting offer – Many affiliate networks list the average conversion rate of the front-end offer and the overall conversion rate across the sales funnel. Look into those stats.
Look at EPC – EPC stands for Earnings per Click. This will give you a vague idea of the average earnings per affiliate click.
That way, you can assume average costs and the likelihood of the campaign's success. If EPC > CPL (Cost Per Lead), you can assume that the offer would be an excellent match to your solo ads affiliate funnel.
Sales funnel structure – A sales funnel that consists of a leakproof system
The quality of the product – Some products will be worth a ton in years to come. In my experience, I bought UpViral for a one-time fee. But now, it is a high-value item that is only offered in the recurring pricing model. So, I am glad I bought it when it was in the sale. Make sure your affiliate products are also high in quality, and your subscribers will not regret buying.
Cookie details – Does the affiliate product follow the first-click or last-click model? What is the extent of the cookie lifetime? These are essential questions you need answers to.
Sales page – Does the sales page have an opt-in form? If it does, stay away from those types of offers. Most of them are used to building their email lists and do not credit you for the sale even though they advertise they do.
Tracking System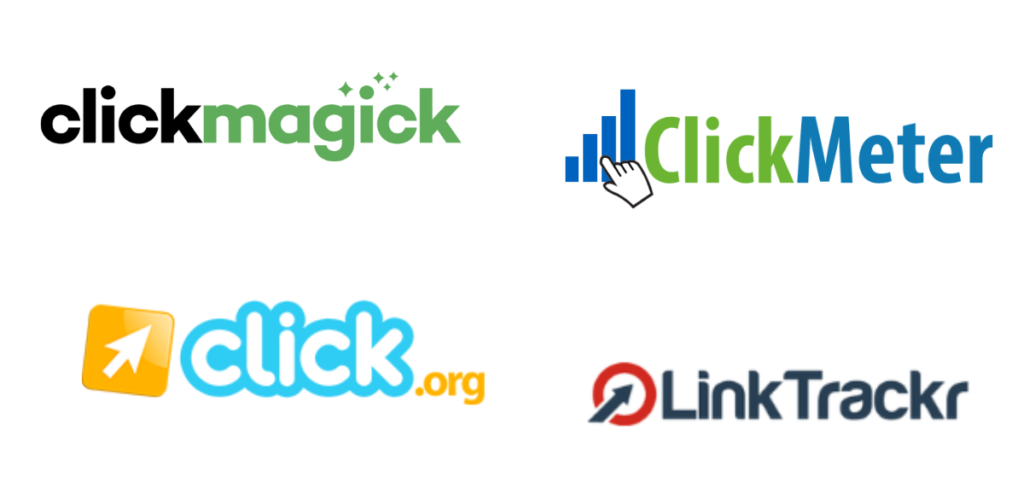 Like any business, you need to track the progress and monitor the performance — no difference for solo ads. In fact, you must use a traffic tracker in solo ads.
Although the seller will provide a final traffic completion report, you should always track it from your end. Why?
That is how you can carefully monitor the traffic, clicks, opt-ins, sales, geographics, demographics, and other traffic statistics. You need to find the best solo ads for affiliate marketing that work and buy from the vendor again to build your list and generate sales simultaneously.
Here is a list of leading link tracking tools for solo advertising:
ClickMagick
ClickMeter
Click.Org
LinkTrackr
Backend of affiliate funnel
Now you have set up basic components. But, if you want to increase return on investment for every solo ad click, you should strengthen the backend of your funnel. Like a house's foundation, an affiliate funnel's backend is the…the email marketing setup.
A good marketer has set up a pretty good email sequence campaign for solo ad traffic. It is not all about focusing on the traffic you buy but also on the long-term vision too.
According to many studies, it takes at least seven contacts or touchpoints for a visitor to convert into a customer. That is why the cost of customer acquisition is higher in many industries. Also, a reason why many affiliate products offer a higher commission rate, usually 50% and up for the front-end offer.
Solo ads for affiliate marketing
Since you have set up the affiliate marketing funnel, buying solo ads for affiliate offers is next.
It involves these two essential steps:
Find a seller
Review the seller
Find a solo ad seller
Now this is a huge task!
Why?
Because unlike Facebook ads or Google ads, Solo ads' traffic quality depends on the solo ad seller's hand. Your money is wasted if you buy solo ads from the wrong seller. That is why you should be careful when buying ads.
But, the good news is there are multiple ways to buy solo ad traffic.
Solo ad directory
Directly from vendor websites
Facebook groups and Forums
If you are a beginner, I recommend is using a solo ad marketplace like Udimi.
If you want to buy solo ads for affiliate marketing from a seller directly, you will have to:
Test their traffic quality
Make sure traffic is delivered within the time frame
Make sure you are not scammed
Build a relationship with your vendor
Review a Solo Ad Provider
To make sure the solo ads works for your affiliate marketing campaign keep these things in mind while receiving a solo seller.
Seach the right seller according to your niche.
Check their previous results and see if they have any social proofs and testimonials on their website and social channels.
Always start small to test and use a click counter tool. This will help you know the exact amount of clicks that you get. You can use Clickmeter or clickmagic for that.
End Thoughts – Solo Ads for Affiliate Marketing
Solo ads are undoubtedly an excellent way of getting thousands of traffic on demand. Unlike other channels, solo ads traffic is targeted, qualified, and warmed up.
And if you are in a niches. Like network marketing, business opportunities, finance, Cryptocurrency then solo ads can work really well for your affiliate marketing offers.
Since most people like to tap into affiliate marketing due to low cost and fewer barriers, not having to provide customer service, and literally unlimited earning potential, solo ads for affiliate marketing has become popular among the internet marketing community.